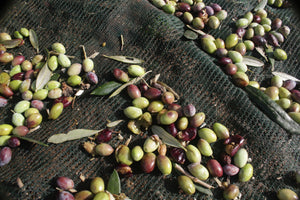 Medicinal & NutritionalGrade ExtraVirgin Olive Oil
The Story
After completing a Pharmacy Degree thirty years ago, Lou Wilson embarked on a journey through Greece.
Traveling unlocks the taste buds and the intellect, and she was incredibly fortunate to have had multiple opportunities to revisit. It is the captivating history, lively culture, and breathtaking scenery that continue to draw her back.
It's there where she discovered Phileos. From her initial encounter, she understood the exceptional nature of extra virgin olive oil. The wealth of nutrients it possesses and she was aware of the favourable effect of the polyphenols on her health and well-being.
She started Olea of Monemvasia in 2016, the official importer of Phileos in Australia. 
The People
Phileos is an award winning EVOO is sourced from the finest olive groves in Molaoi, Asopos & Monemvasia in Laconia, Greece, with warm rocky hillsides along the Aegean Sea providing an ideal microclimate.
The small farmer co-op consistently combine ancient techniques with modern technology to produce this exquisite oil.
The joy of experiencing Greek hospitality and the sense of community is truly a privilege.
Multi award-winning extra virgin olive oil
Highly regarded for its premium quality, health perks, and mouthwatering taste.
Phileos is a premium-quality product that has garnered numerous global awards for its health benefits, nutritional attributes, and exceptional taste. These accolades come from some of the world's most prestigious olive oil competitions.
This exquisite olive oil showcases delicate flavors of almond, pepper, artichoke, fig leaf, and walnut. It is a harmonious blend of two distinct olive varieties that create a beautiful balance of taste.
About Omeio
Personal Service
We take pride in what we do and always strive to provide you with exceptional and personal service.
Quality First
It's all about offering the best of only a few. Supporting both local and international producers and makers with a curated selection of simple pleasures.
Community Driven
We are romantics, this is why Omeio could only exist if it was to build a strong sense of community.
Refer a friend
Give 15% Get $15
Send them a 15% off coupon for their first purchase and you'll receive $15 towards your next order.
Because good things in life are meant to be shared.